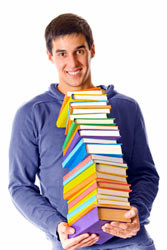 To order to be admitted to the University of Debrecen, there are certain requirements that your application documents have to fulfil. Otherwise, you will not be able to obtain a university place.
Furthermore, each candidate needs to pass a written admission exam. This test has two parts:
1) admission exam with the topics chemistry, biology and physics
2) an oral test about chemistry, biology and physics
The admission tests are organized and offered by MSE. At the University of Debrecen you can start your studies in September.
We can send you a list of the requirements for the admission, as well as advise you by phone.
The documents you send us have to reach us within the given deadline. This will give us time to look for mistakes and make sure that your documents are entirely correct. In addition, we will send you all necessary learning material, in order to prepare for the admission exam optimally.
In order to receive all the information about the University of Debrecen, please send us an email with your address, phone number, mobile phone number and your qualifications. If you already have a higher education degree, please tell us in which field, and when and where it was completed.
In order to contact us, please use the contact form or call us at 516-254-8031.
We are looking forward to hearing from you!