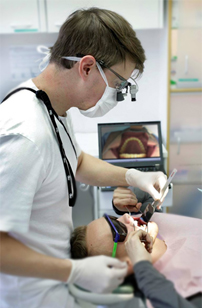 The Faculty of Dentistry of the Riga Stradins University is the first faculty within the Baltic States to introduce 18 special video cameras for the preclinical dental training. The cameras are head-mounted and allow the students to film their performed dental work, which helps them to evaluate their work after their training in order to reach a higher level of excellence.
The work of each individual student is saved in files. After each class of dental practice, students can watch the videos alone or together with a professor in order to analyze their work and what to do better next time. By these videos, the students and professors are able to pay more attention to details of the student's work, since absolute precision and very detailed work has a great significance for dentistry as a profession.
By both students and lecturers, it is a highly welcomed method of training and teaching, since everything the student does can be seen from the student's eye perspective and is therefore very close to what the student works on. A great advantage is that the development of the student's skills can be followed as a process by the camera. Before, it was only possible to evaluate the outcomes of what the students did, but now the professors are able to track the process of the skills. Therefore, they can give targeted advice so that the students can improve more quickly.
Also the study materials can be improved by this camera technology, since they can be supplemented with these video files and real clinical cases. Beyond that, the lecturer is able to record his work in order to precisely demonstrate the students how certain techniques are done. This technology is a great chance for students and lecturers of the RSU Faculty of Dentistry.
This latest technology again proves that the RSU Faculty of Dentistry is the most modern and best equipped faculty of dentistry within the Baltic States. The RSU implements modern, EU recognized professional study programs for educating qualified dentists with sufficient knowledge and a practical skills base for general dental practice – oral cavity and dental care, informative and educational activities for preventive care.