Pavol Jozef Šafárik University
Pavol Jozef Safarik University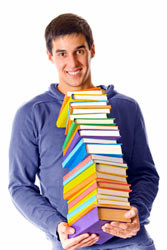 In order to study at the Pavol Jozef Šafárik University school of medicine, there are certain prerequisites that the application documents have to comply with so that the admission is not a problem.
Besides, every applicant has to pass a written admission exam. The test is divided in two range of subjects:
Each part has 100 multiple-choice questions and part lasts approx. one hour.
The admission exams are organised and offered by MSE in different places in Germany. You will find more details in our section "Dates".
At the UPJS school of medicine, you can start your studies in September.
In case you are interested, we will give you a list of the admission requirements, and we are happy to advise you by phone. It is important for you to be punctual in sending the materials within the given deadlines, so we can control that there are no mistakes and that the documents fulfil all prerequisites. In addition, MSE will provide learning material for you to prepare for the written admission exam.
In order to receive all the information about the school of medicine of the Pavol Jozef Safarik University, please send us an email with your address, phone number, mobile phone number and your qualifications. If you already have a higher education degree, please tell us which one, and when and where it was completed.
In order to contact us, please use the contact form or call us at 516-254-8031.
We are looking forward to hearing from you!