Medical University Pleven
Medical University Pleven
MU Pleven School of Medicine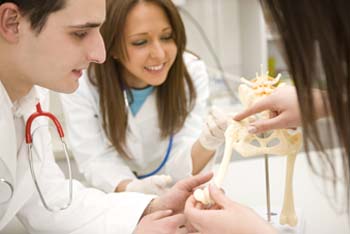 The Medical University Pleven, one of the five medical universities in Bulgaria, and the MU Pleven school of medicine was founded in 1974 in order to expand the horizons, the size and the reputation of the city hospital, founded in 1865. Nowadays, it comprises a preclinical department, a hospital institute with more than 1000 beds, and clinics for every big medical field, as well as diverse specialized clinics and research facilities with modern diagnosis and therapy equipment. The MU Pleven school of medicine and the hospital combine tradition and modern possibilities, teaching and therapy facilities. These are efficiently put to use for patient treatment, student training, doctor training, postgraduate student training and research.
The MU Pleven school of medicine has every necessary department for medical higher education, including theoretical, preclinical and clinical departments. Up to now, more than 6,000 Bulgarian and international students have graduated at this university. Italians make up the biggest group of international student at the university. Other international students come from Germany, Spain Macedonia, Serbia, Ukraine, Moldavia, Greece, Turkey, Nigeria, Albania, Cyprus, Congo, Algeria, the USA, Japan, the United Kingdom and France.
The teaching staff is highly qualified and possesses extensive scientific experience. The lectures at the MU Pleven school of medicine are held in 24 departments, by more than 60 professors and around 300 assistant professors. Most of the teaching staff are members of national and international scientific or medical societies and authors of research projects. Teaching is carried out using different teaching methods, including theoretical lectures and practical exercises in small groups and seminars. In addition, students can attend extracurricular lectures and participate in scientific circles organised by the departments. Practical lessons take up a maximum of 6 students at a time.
Assistant professors, responsible for the instruction of the student groups during the semester, continuously assess and evaluate the knowledge of the students in every subject. Exams are held for every subject at the end of the semester during the 45-day exam phase. The final evaluation of the students' knowledge at the end of the degree is assessed by an extensive examination which includes theory and practice. This examination is carried out by the state examination board.