Lithuanian University of Health Sciences
Lithuanian University of Health Sciences (LUHS)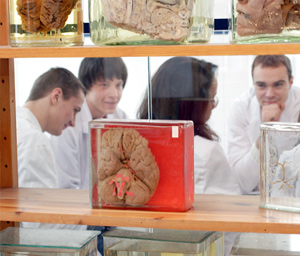 The Lithuanian University of Health Sciences  (LUHS) and the LUHS school of medicine in Kaunas have been established in 1922. It is the biggest educational institution for studying medicine in Lithuania. The history of the university dates back to the year 1919, as the medical society of Kaunas decided to begin lectures for higher education in the field of medicine. With its faculties, institutes, centers and clinics, the LUHS school of medicine offers one of the biggest study, training and treatment facilities. In September 2010 the Medical University in Kaunas merged with the Lithuanian Veterinary Academy. The Medicine Academy has 5 schools for: medicine, dentistry, pharmacy, public health/healthcare, and nursing. The university clinic and five research institutes (research of biomedicine, cardiology, endocrinology, psychophysiology and rehabilitation) complete the structure of the university. The teaching staff at the university counts approx. 800 lecturers and researchers. Lectures are offered in English to the international students (they are also offered in Lithuanian), which makes it possible for them to communicate with the local patients when taking the practical medical training in hospitals. The university is the biggest center for medical research in Lithuania, apart from its teaching activities.  It is a member of the Association of Medical Schools in Europe (AMSE) and the Association for Medical Education in Europe (AMEE). The university clinic is the biggest in Lithuania and offers health care for 75,000 patients every year.

The university, especially the LUHS school of medicine, has developed a new learning system which had great success among the international students. This system is known as Problem-Based Learning, where the student begins in the first years to look for solutions for real practical cases already. This system is used in the United States and also other universities, and it provides an integral, practical education. In addition, the students study the subjects in a block system. This way, the students can concentrate on only one subject for a certain period. Meanwhile, tests, practical training and exercises are carried out with which you can collect points for the final test in the subject. The study period for each subject finishes with the test. These are simplifications, but notwithstanding, the study plan is still demanding. For these reasons, Kaunas has an excellent reputation among American and European international students moonrock pre roll.
PhD/Specialization
After having successfully finished the undergraduate studies, it is possible to specialize in a specific field at the LUHS in three to six years. Therefore the LUHS school of medicine offers a broad range of courses in the field of medicine.